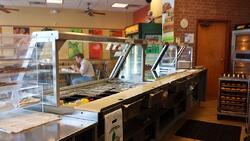 Buy this Subway Franchise Restaurant for sale and own one of the world's largest restaurant chain. Why take seven months to open a new business? Simply buy this open and operating Subway franchise restaurant for sale!

Seller and his wife are ready to retire and that's the only reason he is selling this successful store they have been operating for over a decade. Take over the operations as a new hands on owner of the Subway franchise restaurant for sale and you'll get the support and experience of this winning brand. Contact the restaurant brokers today for more information about this Subway franchise restaurant for sale.

What's so special about this brand? Subway is the world's largest restaurant chain and one of the most respected brands in the industry. This Open and Operating Subway franchise restaurant for sale has sales on the books of more than $361,000 last year and net earnings over $100,000. Food Cost at this location is 27%. These numbers are based on an owner/operator. Buy this Subway restaurant franchise for sale and you get the power of brand that is ranked by Zagat as the #1 most popular category, #1 in service and #1 in healthy options, a trend that just keeps growing in a health conscious America.
This Subway franchise restaurant for sale has great long term lease is in place and the brand assists in renegotiation of all leases. The current lease situation is $4,541 per month including CAMS, taxes and insurance. This is a great opportunity to own your own business, but not just any business, a proven business with a low investment, simple operations, national and local support, national and regional advertising, a two week training program, ongoing learning for owners and staff, store development assistance, lease negotiations and much, much more

Preference for all buyers will be given to those already within the Subway system or approved by the brand.