This Hot Dog Cart for Sale Mobile Business has Huge Growth Potential in Northeast Florida. Mobile Business can operate anywhere!
Grab this
hot dog cart for sale
and serve up a low cost, high profit business at the venue of your choice. This owner has the contacts and repeat customers, servicing Car Dealerships, Auto Clubs, Employee Appreciation Day, Grand Openings, Office Parties, Birthdays and Yacht Clubs. This hot dog cart for sale also offers catering services throughout Duval County, Clay County, St Johns County, and Nassau County.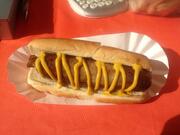 The
National Hot Dog and Sausage Council
estimates that 15% of the approximately 10 billion hot dogs consumed by Americans last year were purchased from a mobile hot dog vendor cart. What are you waiting on? This adorable Hot Dog Cartfor Sale has a pop up tent, colorful graphics, and is ready to take on the roadto whatever location you choose. Plenty of room for all the fixings that have customers coming back when you buy this hot dog cart for sale by
the restaurant brokers
.
Self-contained and designed to serve a limited menu, the on-board cooler keeps the hot dogs safely chilled until ready for reheating while the cooking surface handles plenty of product so you can satisfy the demand on busy days when you are hired for corporate events.
This business uses 100% all beef hot dogs and the finest Sausage made locally by Azar & Sons with the added touch of Johnsonville Brats. As a full service Hot Dog Stand it sets the standard in the industry for professionalism and has been awarded the
"Shiney Spoon"
award by the
Florida Times Union
for having spotless inspections.
Included in this hot dog cart for sale transaction is the vehicle and hot dog cart, refrigeration, sinks, equipment rack, various utensils and more. This hot dog cart for sale has the ability to convert to any cuisine you see fit! Buy this mobile food cart for sale and start serving up dogs and more tomorrow!