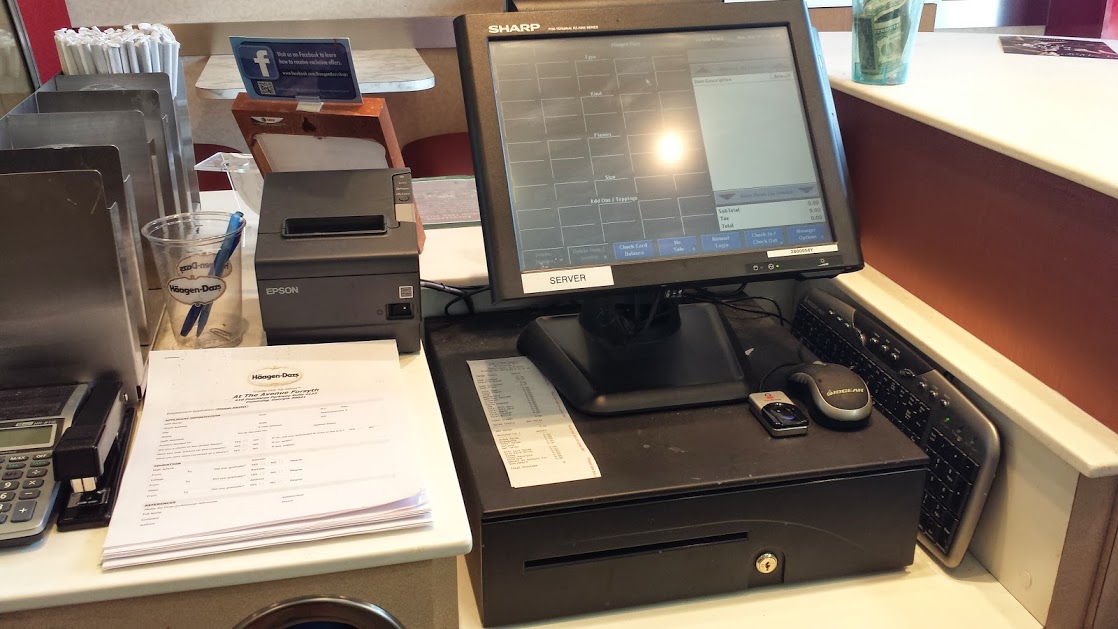 The We Sell Restaurants radio show airs every Saturday at noon (12pm) in Atlanta on AM Talk 920 and Sunday at 1pm on BIZ 1190AM, (The Wall Street Journal Network) in the nation's 7th largest media market. The goal of our how is to satisfy our listener's appetite for acquisition, feed the need for restaurant reality and serve up a recipe for business success.
The brain of the restaurant business is the POS system but today's advances take this far beyond an ordering system. Marketing, operations and moare are all impacted by this importanant data capture method. Join the restaurant bokers, Eric and Robin Gagnon to learn about the latest advances and opportunities for restaurant owners. Should operators be tablet or iPad based? Why or why not? How are new changes to credit card standards in the United States affecting all restaurant operators and what must they do to get ready? The Restaurant Brokers talk to POS experts Sastry Penumarthy and Paul Roberts about restaurant specific systems to seek their input on what's trending in the world of POS right now.
A little about these leading POS innovators...
The Restaurant Brokers welcomed Sastry Penumarthy, Co-Founder and Vice President of Marketing and Development, Punchh. Sastry defines and executes on marketing strategy and partner strategy. Prior to co-founding Punchh in 2010, Sastry held leadership roles in product development and marketing at large and emerging technology companies including Siebel, BEA, InsideView, and Foxboro. He co-founded and led business development for two companies, Nuevora, a Big Data CRM analytics services firm, and a sports-card vending machine company that works with local businesses. Sastry earned a master's degree in engineering from the University of California, Santa Barbara, and an MBA from the University of Chicago.
Punchh, a mobile CRM suite for restaurants, includes branded mobile apps for consumer engagement, big data customer analytics, and integration with POS, social media and other third-party systems. Headquartered in Sunnyvale, California. Punchh's patent-pending technology operates in more than 1,400 restaurant locations under brands such as Aurelio's Pizza, Earl of Sandwich, Farmer Boys, Hungry Howie's, Mama Fu's, Max's Restaurant of the Philippines, Rita's Italian Ice, Schlotzsky's, Vino Volo, and Voodoo BBQ & Grill.
The Restaurant Brokers also welcomed Paul Roberts who has always had a passion for computers and technology. Roberts graduated high school in 2002 and completed an AB in Business Administration from the College of Southern Nevada soon after. Roberts then achieved his BA in Computer Science from the University of Nevada Las Vegas and pursued an MS in Computer Science from the University of Illinois Springfield. After graduating, he worked setting up an international production tacking system for a printing company in China, worked at Allegiant Airlines during their PCI compliance efforts and was a contractor at JT3 working with large scale databases and real times systems for the Department of Defense. Roberts designed and created Next Gen Dine mobile point of sale system and is now managing partner of Prelag Partners LLC.
Next Gen Dine is a cloud-based, mobile restaurant point of sale software designed for the iPad. Restaurant owners can now capitalize on the benefits of a full-featured POS system for a fraction of the cost of a traditional POS. Due to the mobility offered by the software, employees can take orders directly at the table, take credit card payments at the customer's side and drastically improve restaurant operating efficiency. Orders placed are sent directly to the appropriate prep station, therefore decreasing order turnaround time. Next Gen Dine also offers restaurants customer loyalty programs, gift card features, social media integration and many other fine-grained marketing tools.
Last but not least, Jared Isaacman, the restaurant brokers are joined by the founder and CEO of Harbortouch, a premier POS System provider and payment processing organization based out of Allentown, PA. He is considered to be one of the industry's most influential business leaders and has been recognized as one of "America's Best Entrepreneurs" by BusinessWeek Magazine and "30 Entrepreneurs Under 30" by Inc. Magazine. Isaacman has also been named as a finalist for the Ernst & Young "Entrepreneur of the Year" award for 2006, 2007 and 2008 and was the youngest person ever named to the list of "Industry Leaders" by the credit card industry's leading publication, The Green Sheet, where he now holds a position on the Advisory Board. He has also been featured on NBC's Today Show, ABC News and Bloomberg, and has been profiled in Entrepreneur Magazine and ISO & Agent Magazine, among other publications and media outlets.
Isaacman started the company in the basement of his family's house when he was only 16 years old. With the help of his father and business partners as well as his first employee, Brendan Lauber, who now serves as the company's CTO, he built the company into the industry leader it is today. Under Isaacman's hands-on leadership, Harbortouch has become one of the largest payment processors in the nation, providing merchant services to over 110,000 business locations and processing in excess of $9 billion in credit card volume annually.
Restaurant Broker Robin Gagnon started off discussing how POS has evolved from far more than just a simple cash register. She asked Sastry Penumarthy to provide his thoughts around this and he agreed stating that Punchh views the POS as "the heart of the relationship between the customer and the restaurant". It is "a repository of very valuable information about what customers are purchasing; but the information needs to be unlocked so that we can translate the data into improving the relationship between the restaurant and the customers so that the customers keep coming back and spending more and bring their friends".
Paul Roberts stated that his point of view is that "the POS can improve or, if it's not good, it can ruin the customer experience. It's very important to make it easy to use for the servers and very easy for the management to pull the data and analytics and make use of the data that is in there".
Jared Isaacman weighed in on the new credit card environment for 2015 and how this will impact the restaurant industry. The Chip-and-Pin roll-out, per se, where consumers don't know how to use it yet and how the hospitality industry isn't quite clear. He basically stated that this is a "behavioral change for the United States". He wonders if we [U.S. consumers] are ready to pay at the table. His belief is this will not succeed in the U.S., if pay at the table does not become a standard. He would recommend for small and mid-sized restaurant owners not to rush out for consumers that are not even ready yet, but if big national chains start making a move and you start seeing them push to pay your tab at the table, then start making the move yourself as a smaller business owner to do the same.
To hear more on this topic, please download the show on iTunes or on the wesellrestaurants website.
We Sell Restaurants is your authority for all things restaurant related. Please take a moment to LIKE us on FACEBOOK or follow us on TWITTER. We Sell Restaurants is the industry leader in restaurants for sale and restaurants for lease. Our name says it all! We specialize in selling restaurants, franchise restaurant sales and restaurants for rent.