Buy this family re
staurant for s
ale in Delray Beach and that's fully equipped. Stay with the current
menu or easily convert to your own concept.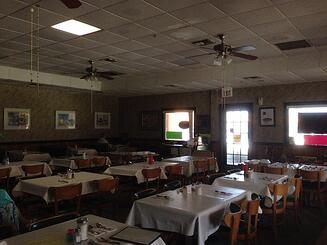 This family restaurant for sale features a
fully equipped commercial kitchen that can turn out any cuisine. The kitchen features a 16 foot hood, eight- eye burner with stove, two salamanders, stock pot burner, 2 fryers, convection oven, two door low boy cooler, 2 two-door sandwich coolers, two door beverage cooler, ice machine, conveyor toaster, heat lamp, slicer, freezer, walk-in cooler and walk-in freezer and so much more at this family restaurant for sale by the restaurant brokers.
The front of house has 25 tables and seats 92 guests.
The family restaurant for sale occupies 2,450 square feet in a very busy shopping plaza. The restaurant seats 92 guests and can easily be converted to any concept. The three mile and five mile population are 57,000 and 155,000, respectively. The average household income levels are $69,000 and $79,000, respectively. The daily traffic count on the road that this very busy plaza sits on is 30,000 vehicles per day. Your neighbors in the plaza include Publix, Walgreens, A Movie Theatre, Dollar Tree, and other local restaurants, service providers, and retail. Parking will never be a problem as this plaza has ample parking for all of its tenants and customers. The very reasonable rent of $7,153 includes all CAM and taxes.
The current menu features breakfast, lunch, and dinner. Standard breakfast fare is served between the hours of 8 am and 11 am. Pancakes, French Toast, along with Egg dishes featuring three egg omelettes are the mainstay of the menu. Lunch is served from 11 am – 3 pm and features sandwiches, burgers, salad platters, and more. Dinner is served until 8 pm and features seafood, pasta dishes, comfort foods and more. The menu and all recipes will transfer with sale and the owner will stay for two weeks to train at no cost.
You may prefer to bring in your own concept to this A+ location. The equipment package that is present can handle almost any concept. This space would be perfect for a sports bar, wings place, or almost any other concept.
As this is an asset sale no books or records are available. If you would like to obtain the name and address of this opportunity and to view additional photographs please click on the tab below. You will then be able to sign an electronic confidentiality agreement. If you have any questions please call your certified restaurant broker, Ken Eisenband, at 561-350-3365.