The We Sell Restaurants radio show airs every Saturday at noon (12pm) in Atlanta on AM Talk 920 and Sunday at 1pm on Biz 1190AM, (The Wall Street Journal Network), in the nation's 7th largest media market. The goal of our show is to satisfy our listener's appetite for acquisition, feed the need for restaurant reality and serve up a recipe for business success.
In the ever-changing restaurant business, operators are working daily to innovate by using their imaginations and hard work to develop new ways of doing business. The National Restaurant Association honors these individuals with Operator Innovations Awards. Fellow food service operators recognize and celebrate their peers which are chosen by a team of independent operator experts from across the country. This week's show features some of these game changers in the industry; all of which were selected as finalists in various categories. The winners in each category, in addition to the Innovator of the Year, will be announced at this year's National Restaurant Association Show on Saturday, May 17th at the 3rd annual 2014 Operator Innovation Awards.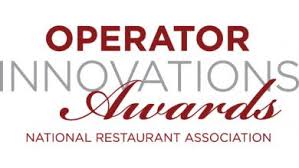 Featured guests and distinguished innovators join the Restaurant Brokers to discuss their innovations including…
Jennifer Duggan, Director of Culinary and Hospitality Services at Kennesaw State University, joined KSU in January 2010, bringing fifteen years' experience in food service, hospitality and event management. Jenifer has produced national and international events and conferences and performed marketing and PR services for clients such as Intel, JCB, Comcast, Southern Company, Coca-Cola, the WNBA, Atlanta Dream, The National Peanut Board, and the Chick-fil-A Foundation. Jenifer is an active member of the Georgia Restaurant Association, and serves as a student mentor for the Hospitality Education Foundation of Georgia.
Bill Cheek, Executive Director of Food & Beverages. Bill Cheek has been the Executive Director of Food & Beverage for Chumash Casino Resort since 2011. In his previous experience, he was the Corporate Director of Hotels for ACE Parking Management (2008-2011), Director of Operations for W Hotels in San Diego (2007-2008), Director of Operations for Omni Hotels (2003-2007), and he's held past Director of Food & Beverage roles for Rosewood Hotels & Resorts and Hilton Hotels.
Joe Snell, CEO, ViableWare. Earlier in his career, Joe was an early member of Spry, Inc. in Seattle - which produced one of the first commercially available internet connection software packages available for sale to the public. He was also the CEO & Founder of Seattle-based Pantheon, which was acquired by Compaq in 1997. Pantheon created community publishing systems for newspapers such as The New York Times and the Houston Chronicle. Later, Joe was the CEO & Founder of Union-Street.com in Seattle - which was acquired by InfoSpace for $17 million in 1999. Lastly, he has also served as CEO & Founder of Seattle based Tamarac.
The Restaurant Brokers dove right into the innovations that secured nominations for this ambitious group:
Jennifer Duggan, nominated in the Health and Nutrition Category, described the ins and outs of Kennesaw State's impressive campus dining program coined "Farm-to-Fit" which encompasses all aspects of healthy living, starting with the nutritional improvement of food grown on campus farms by increasing their nutrient-density, to thoughtful menu creation and preparation, to programming designed to encourage healthy lifestyle choices. She described how food today is 60% less nutritious than what our grandparents ate. Perhaps most interesting, the Restaurant Brokers noted, is that Kennesaw State is not an agricultural school despite their large growing practices; and Jennifer explained that they actually hire culinary experts, master gardeners and the like who are hands-on every day. Wow! And this school is basically right here in our back yard!
Bill Cheek, nominated in the Sustainability category, explained his approach at Chumash Casino Resort as a whole systems approach that goes beyond locally sourced food, energy efficient kitchen systems and renewable energy. It is a comprehensive waste reduction strategy that includes recycling, repurposing and composting to decrease waste by more than 50% with an incremental cost reduction.
Last, but definitely not least, Joe Snell, nominated in the Technology category, outlined the RAIL Payment Platform; which features digital, touch-screen check presenters that allow guests to split checks, auto-calculate tips, pay via credit card and trigger e-mail receipts all at the table for more streamlined, secure transactions that save staff time and lessen customer wait times.
Impressive? What do you think?
The reality of the restaurant business is that it's about far more than simply serving up great food on a platter. Restaurant Brokers Eric and Robin Gagnon demonstrate time and again there are numerous facets to the restaurant business beyond a fabulous menu in a great locale and these three innovators are excellent proof points as such. To hear the skinny about this and more, download the show on iTunes or on the wesellrestaurants website.
We Sell Restaurants is the nation's largest restaurant brokerage firm based on the number of listings, transaction count and offices. The company is franchising nationwide and has offices in Florida, Georgia, Colorado and Tennessee.
LIKE this article? Please SHARE it on Facebook, LinkedIn or Twitter and remember that We Sell Restaurants is your leading authority on buying or selling a restaurant and/or all things restaurant-related.