Restaurant Brokers Eric and Robin Gagnon of We Sell Restaurants are at it again…with the intent to satisfy our listener's appetite for acquisition, feed the need for restaurant reality and serve up a recipe for business success. The We Sell Restaurants show airs every Saturday at noon (12pm) in Atlanta on AM Talk 920 and Sunday at 1pm on BIZ 1190AM (The Wall Street Journal Network) in the nation's 7th largest media market.
The Restaurant Brokers asked industry experts, Alan Shaw, Wayne Taliaferro and Jesse Tron to provide a market update on some very important topics to restaurant owners... the overall condition of the restaurant real estate market for those interested in leasing. Are rental rates up or down? What can you expect if you are in the market to lease a restaurant when it comes to negotiating power? What do landlords want or demand of operators before considering them as a tenant?
But first, a snapshot about the guest's weighing in on this week's topic:
Alan Shaw: An Atlanta native, Alan is the Senior Landlord Advisor at The Shopping Center Group in Atlanta. Alan successfully represents national landlords and experienced regional and local developers for the day-to-day leasing of projects ranging from anchored/unanchored shopping centers, single tenant buildings, land, disposition of anchor boxes to the preleasing of new developments. Alan began his career in real estate in 2002 and joined The Shopping Center Group in 2002. Alan served as C-Chairman on the Chainlinks Landlord Council 2009-2012, has been a Committee Member on ICSC's Southeast Convention where he organized the popular "Meet the Retailers" and has been consistently chosen by Costar as a "Power Broker" due to his high transaction volume.
Wayne Taliaferro: Wayne is a valued member of the We Sell Restaurants Team as a Senior Leasing Specialist. With over 30 years in commercial real estate experience; 20 years of which have been focused in the Atlanta market, Wayne brings expert knowledge and expertise in location selection and leasing. Wayne specializes in putting together a comprehensive plan for multiple restaurant and retail site locations and executing through lease and site purchase. Wayne is licensed in Georgia and Florida and has reciprocity with South Carolina. He
has performed site selection as well as lease and acquisition negotiations for oever 250 locations for National restaurateurs in the Southeastern United States. Wayne is also a member of the International Council of Shopping Centers (ICSC).
Jesse Tron: Jesse is the Manager of Communications and Media Relations for ICSC, the International Council of Shopping Centers. He has been at ICSC since 2008, where he is the spokesperson for the organization. The purpose of the ICSC is to advance the shopping center industry and to promote its role in the commercial distribution of consumer goods and services by providing educational programs and publications, conducting meetings and other programs, collecting and disseminating information pertaining to the shopping center industry and
publicizing the industry to the general public.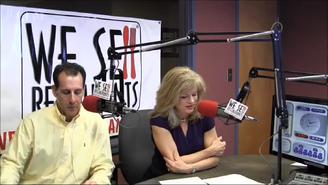 Taking a look at what the restaurant brokers and our industry experts had to say on the topic of the current restaurant leasing marketplace, Alan was very clear that it is absolutely imperative that those looking at a startup restaurant should "do their homework". Wayne's advice included that "oftentimes first timers fall in love with a location which can be both good or bad".
"Weigh several options", he added. Restaurant broker Eric Gagnon also wanted Jesse's perspective regarding a national outlook because the ISCS compiles data and research from all over the country. According to Jesse, the restaurant industry is on the upswing...things are "positive…overwhelming positive, in fact." To hear the specific stats and more, please download the show on iTunes or on the wesellrestaurants website.
We Sell Restaurants is the nation's largest restaurant brokerage firm based on the number of listings, transaction count and offices. The company is franchising nationwide and has offices in Florida, Georgia, Colorado and Tennessee. If you need assistance leasing the restaurant of your dreams, you may find us online at wesellrestaurants,com, LIKE us on Facebook or follow us the restaurant brokers on Twitter @sellrestaurants. We Sell Restaurants is the industry leader in restaurants for sale and restaurants for lease.