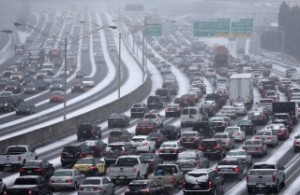 Who will ever forget the winter of 2014? The Snowmageddon in Atlanta made international news as roadways were blocked and cars stalled out in traffic unlike anything we've seen in recent history. School children slept in gyms or in buses, commuters were stranded for hours on the highway and the national guard was ultimately called in to deal with the disaster.
The impact of the storm is still being felt as restaurant sales across the country struggle under the weight of the icy winter served up by Mother Nature. The Restaurant Brokers have been talking about the snowy hit to sales for the entire first quarter and now Technomic has revised its entire annual perfomance on the basis of the winter weather.
Technomic is the Chicago based firm that serves as a research and consulting firm servicing the food and foodservice industry. They just revised their entire 2014 forecast down after all of the severe weather that we have been experiencing. In their recent release, they state that "the harsh weather conditions translate into foodservice sales being down 3 to 4 percent nationally and down 7 to 8 percent in weather-affected markets in January and February. As a consequence, full year industry projections suggest growth will be +2.5 to 3.0 percent versus an initially expected +3.5 to 4.0 percent."
That's a tremendous hit to sales in an industry that's been eeking out 3 - 4% gains for several years now. One of the Technomic principals, Wade Hanson says, "We expect that consumers will enthusiastically return to foodservice in the spring, but January and February have to be considered lost dining occasions for foodservice operators."
Meanwhile the restaurant brokers are hearing from some unique operators trending as high as 17% above last year to those feeling the pain of missed sales in both January and February that are pushing sales performances down.
Restaurant broker Eric Gagnon says, "The winter storm events in the Atlanta market served up a double whammy since one storm fell on top of the profitable Valentine's time period. While February was quite tough for most operators, we are still talking to some chains and individuals who are operating with sales above last year." That's not all according to the restaurant broker team. Robin Gagnon reported, "What's very encouraging is that the tough winter has created some pent up demand for shoppping and dining. With last weekend's Spring-Like conditions, we saw all the major malls packed and restaurants on a wait. We anticipate that when first quarter sales are reported, white tablecloth or fine dining will be more adversely affected than fast casual concepts, continuing a trend of several years."
The restaurant brokers will continue to report on the sales trend of the industry with the publicaton of first quarter sales results in April courtesy of the Net Financials survey produced by Bob Wagner.