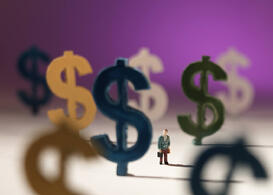 The recently released BizBuySell's 3rd Quarter Insight Report indicates that small business transactions jumped 42 percent over the same time period versus second quarter (April through June 2014). According to the company's quarterly numbers, there were nearly 1,700 closed transactions versus just over 1,000 for the prior three months. In their words, "sales of restaurants (along with retail businesses) led the way, with transaction growth of 11 percent and 61 percent respectively."
The restaurant brokers are reporting a very similar trend for fourth quarter, an anomaly in our practice over the last decade since the last few months of the year are traditionally slower in the sale of restaurants. According to Eric Gagnon, President of We Sell Restaurants, "Year-end is typically a time when restaurant owners are less likely to sell as they want to hold onto the lucrative holiday party bookings. It's also a time when buyers are less likely to take over as they caught up in the holidays or may not have much time to acquire a liquor license before the December 31 deadline (in many states) or get much benefit from the prior owner's license."
Why are restaurant sales booming? Here are the top four reasons according to these restaurant brokers.
1) Economy: The economy has improved over the last year leaving those who were previously concerned about jumping into the mix, more likely to place their restaurant for sale. That has also led to better pricing. BizBuySell says in their survey that the median business sale price was up 3% last quarter while the restaurant brokers are seeing pricing up as much as 5% with franchise re-sales pulling much stronger multiples.
2) Lending: The restaurant brokers have performed more transactions with lenders in 2014 (including several in fourth quarter) than over the prior two years combined. That means that banks previously shying away from restaurants with demonstrated earnings and strong books and records are back in the game. The SBA lending departments of major banks are reaching out to the restaurant brokers to finance deals they were not interested in from 2008 to 2012. That's not to mean that the requirements aren't just as tough for qualifying a restaurant for lending. What it does mean is that steady deal flow has replaced previously nonexistent lending.
We aren't the only ones reporting this trend. The SBA or Small Business Administratin reports on its website that during the fiscal year which ended Sept. 30, SBA loan approvals went forward on 54,106 loans to small businesses in its two main loan programs, 7(a) and 504, versus 53,848 loans for the same time in 2012.
3) Franchise Re-sales are Growing as Predicted: For some time, the restaurant brokers have been predicting the increasing trend toward franchise re-sales. During the softer economy, some multi-unit owners simply tightened their belt and waited for better times. That can only improve bottom line results so far. The next step to grow earnings requires them to peel back the less profitable stores and spin them out for owner/operator scenarios. It is almost always the case that someone operating more than three stores cannot significantly improve the operations of a single store while an owner/operator can. Why? An owner/operator has a uniquely invested interest in the business. He or she will reach out to get catering orders and watch labor and food margins like a hawk. The single owner won't have the costs of layered in "regional" or "management" payroll. Once you get above three stores, you need a regional management team. Their salary, travel, benefits and all other costs get allocated across the stores, increasing costs. These go away for a single owner meaning you can buy this store and instantly move it out of the red and into profitability.
4) Baby Boomers Backing Out or Getting In: The last reason that restaurant sales are booming is because of the baby boomers. Baby boomers, as written in our book, Appetite for Acquisition, "have influenced life in America every step of the way since they were born in record numbers." Born between 1946 and 1964, they began retiring in 2007. Many of them experienced careers cut short because of the recession that began in 2008 and are seeking a "second career" as a restaurant owner. They are a huge buyer pool.
On the other side of the scale, these 55 to 64 year olds are ready to cash out and leave their children to run the business. Unfortunately, what most are finding is that their restaurant business just isn't "cool enough" for the Millennials (their grandchildren) or their well-educated second generation children that chose other careers. They are left with no one ready to take over the reins. This group is turning to the restaurant brokers, causing a sea change of restaurant sales that will not slow down until the end of this decade.
Combine all four factors, according to restaurant broker Robin Gagnon and you have "A recipe for restaurant sales that will continue to grow in strength for the foreseeable future. Based on our study of the marketplace, we anticipate continued strong growth in sales, listing prices and lending availability, all signals that the restaurant for sale market is increasingly healthy."