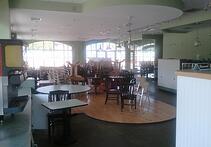 Restaurant buyers often begin their search before they qualify what they are looking for. We've developed a ten step questionnaire to help you define what you want and more importantly, what fits your lifestyle before you go on the search for the perfect restaurant. This is vital to the buying process and a step that most buyers overlook.
This article will cover the first five questions and next week's post will cover the balance of our checklist. If you're in the market for an Atlanta restaurant for sale, stop and answer these questions before you do anything else.
Question 1: I am interested in:
a) An operating restaurant – profitable
b) A turnaround situation
c) A closed restaurant
d) Franchise Restaurants
e) New Space
The answer to this question lies with whether you need an immediate income (in which case only the first answer is an option for you) or whether you have the capital (and risk tolerance) to invest and building earnings over time. Consider that it will take between 18-24 months for a GOOD operator to perform a turn around or begin seeing profit from a start up so plan accordingly.
Question 2: I am interested in
a) Restaurant and Real Estate
b) Restaurant Only – with Lease
c) Real Estate Only – I'll convert
The answer to this question lies within your financial situation. Landlords will require both good credit and a personal guarantee on the lease in most cases. If you plan to lease and don't have both, you may want to consider something with real estate so you can leverage the purchase of the real property with a lender. If you're purchasing real estate to convert, it's going to take a lot of capital

Question 3: I am interested in
Upscale/Fine Dining Restaurant
Bar-B-Que Restaurant
Pizza Restaurant
Italian Restaurant
Sports Bar Restaurant
Asian Restaurant
Deli/Sandwich Restaurant
Franchise Restaurant
Take Out/Delivery Only Restaurant
The answer to this question may lie with your background or experience. You may also have personal values or other criteria which would stop you from looking at certain concepts. Someone whose religious believes preclude alcohol should rule out sports bars.

Question 4: I am interested in
1) Earnings of under $50,000
2) Earnings of between $50,000 and $100,000
3) Earnings above $100,000
The higher the net income of a restaurant (which typically sells for 2- 2.5 times earnings, the higher the purchase price. What you can afford will drive the answer to the following question.

Question 5 I do have or I do not have Restaurant Experience
The answer to the following question is straightforward. It may be very relevant to an owner that may finance a portion of the purchase or landlords and lenders who may turn away candidates without background and experience.

Ask yourself and answer these five questions before you begin to
buy a restaurant
. The answers will equip you to meet sellers and brokers with a clear strategy for your own success. Our next blog posting will cover the rest of this list.