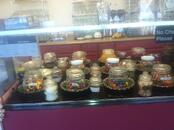 Bakery and Cafe for Sale by the Restaurant Brokers is Priced to Move! Adorable location and great rent!
Buy this
bakery and cafe for sale
in Macon Georgia. This vintage inspired bakery and cafe for sale serves up cupcakes, ice cream, cold sandwiches, hot dogs and more! One step in this restaurant and you will be transformed back in time.
This Seller told the Restaurant Brokers, "Sell my restaurant!" for personal reasons and is ready to make this opportunity happen quickly. The business is 2600 square feet and approximately 30. It has beautiful chandeliers and vintage art decorating the space and bringing a homey feel to add to the sweet treats and great food being produced in this location. The 100 year-old cash register completes the look but the iPad based POS system steps this bakery up to the modern century. Rent for this space is only $1200 per month and 3 years remain on the lease.
This kitchen is small but features a convection oven, several freezers and refrigeration, prep tables, small wares and more! There is a grease trap, but no hood, so add a few more pieces of equipment and you could serve up just about anything.
The menu at this bakery and cafe for sale features gourmet desserts, old fashioned ice cream and cold sandwiches. Favorites such as Waldorf Chicken Salad, Glam Ham, hot dogs served up any way you can dream and a Root Beer Float keep customers coming back for more.
Recipes will transfer in the sale of this bakery and cafe for sale. The existing owner will even stay on to train and ensure a smooth transition.
This north side
Macon
location is sure to please any concept. Located near lots of shops, car dealerships, residential and office spaces, this location has it all. The average income within a 3 mile radius is $79,519 and over $7M was spent on restaurant expenditures in 2013. Buy this bakery and cafe for sale and capitalize on these statistics. Click on the link below to learn more about this bakery and cafe for sale in Macon, Georgia.
Contact the Restaurant Brokers today!