The Restaurant Brokers have been bullish on restaurant sales since very early in 2017 and our predictions have been spot on with reports from the marketplace. BizBuySell is confirming our findings, stating that the first quarter of 2018 brought "record-breaking sales prices and transactions" for business sales.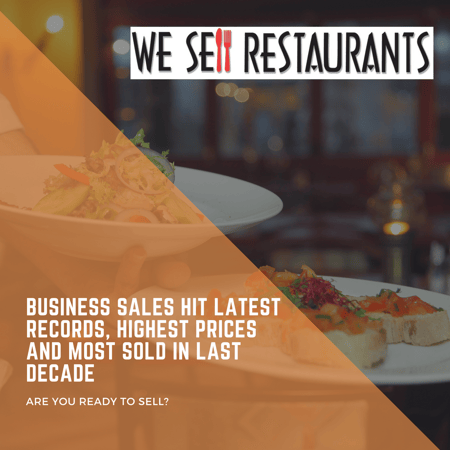 2018 Versus 2017 Results
Asking prices, count of restaurants on the market and selling prices all rose in the first quarter of 2018 versus 2017 acording to the latest tracking data released by BizBuySell. In their report, "small businesses sold for the highest sale prices since they started tracking data in 2007." That's a decade ago! Selling prices were up 3.4 percent increase from last year at this same time. Asking prices are up as well. Their report says that the median asking price of sold businesses also hit a record high. The number was $262,000, a 4.8 percent increase over 2017.
There were a total of 2,678 businesses sold in the first quarter of 2018. This represents a 13.1 percent increase from this time last year and the most businesses reported as sold in a quarter since BizBuySell began collecting this data. What about restaurant sales? Restaurants represented 21% of all businesses sold. From our internal data, as the largest restaurant brokerage firm nationwide, we can confirm that transactions, asking prices and selling prices are all up from last year. Restaurant transactions were up 7.65 nationwide in the first quarter.
Drivers of these Results
What's driving the change? It's the Trump effect and specifically, the tax bill. Small business owners are listing businesses they previously held back on because they know the tax consequences are less when it sells in 2018. Simultaneously, small business confidence is at an all time high. The tax bill has made a number of buyers and seller realize that their efforts will put more money in their pocket so small business ownership is looking good to them.
The strong stock market has also contributed to the boom in restaurant sales. Many buyers rely on 401K savings and fund acquisitions through rollover products. Now that their savings have seen a 20% to 25% bump in the last year, they are feeling flush with cash and ready to invest in themselves.
Will it Continue? Only if the Tax Bill Remains Unchanged
What do the trends look like? Here's the quarter by quarter graph released by BizBuySell showing the sale price versus asking price since 2014. You'll see that the first quarter of 2018 has the highest point on the graph. The restaurant brokers fully expect this trend to last for the year with one caveat. Should the Democrats take back control of the House or Senate, putting them in a position to reverse the tax package, as they have pledged, expect these numbers to tumble significantly.
For now, the tax package has not only spurred tremendous growth in sales, it is also paying for itself, a little discussed fact released by the Congressional Business Office or CBO last week. Last June, the CBO said GDP growth for 2018 would be just 2%. Now it figures growth will be 3.3% — a significant upward revision. It also boosted its forecast for 2019 from a meager 1.5% to a respectable 2.4%. The CBO now expects GDP to be $6.1 trillion bigger by 2027 than it did before the tax cuts. The CBO report also makes clear that this faster-growing economy will offset most of the costs of the Trump tax cuts. BizBuySell surveyed business owners and and nearly half of them (more than 48 percent) believe the tax changes benefit small businesses. Less than a quarter (24 percent) found it harmful.
Business Confidence Rules
The restaurant brokers aren't the only ones discussing business confidence. The NFIB or National Federation of Independent Business group surveyed its members in February. In their Small Business Economic Trends Survey, they reveal that "small business owners are showing unprecedented confidence in the economy." These results are spilling over to unemployment numbers which has fallen to 4.1 percent, the lowest since the dotcom boom back in 2000. That is also affecting small business owners and of those surveyed by BizBuySell, 60 percent plan to hire more staff and 57 percent plan to raise compensation.
All of this economic growth is pushing those interested in small business ownership to seek opportunities like our restaurants for sale, especially since the businesses themselves are performing better.
Cash Flow Trends
Restaurants for sale like the ones we represent are priced based on cash flow. The businesses sold in the first quarter of the year reproted higher earnings. That is the trigger for rising valuation and ultimately, higher selling prices. The median cash flow of businesses sold in Q1 increased to $120,000, a 2.3 percent increase over the same time last year. This is still a minor raise that would not dramatically affect pricing but we expect to see this trend continue up as well. Businesses selling in 2018 are reflective of 2017 earnings. As trends strengthen this year, this will be factored into the valuation of transactions later in the year.
Are more sellers putting their businesses on the market? Yes. The report found an increase of 6.9 percent in businesses listed. The restaurant brokers continue to believe the time has never been bettter for selling. Between small business confidence, the number of buyers in the market and continued favorable lending trends, 2018 is the year to sell your restaurant.