In the market for a restaurant franchise? Curious about how much money it takes? Here's a recap from a recent article in Entreprenuer Magazine on those that require either the smallest amount of capital to launch or the least amount of cash on hand. The good news -- half of all baby boomers and 16% of Millenials have the nest egg needed to start today!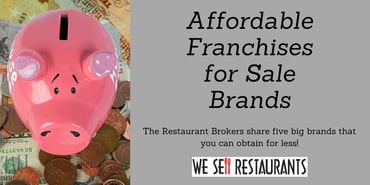 The path to business ownership feels a little more secure when you buying a restaurant franchise for sale versus a start up concept. But how much money do you really need? You may be thinking, "I can't afford to become a franchisee, it requires hundreds of thousands to millions of dollars up front to join the brand." While this is true for franchising giants like Taco Bell who requires $1 million all the way up to $2.5 million to become a franchisee, it is not a reflection of all of the franchises for sale in the restaurant industry. Read on as the Restaurant Brokers break down some of the least expensive franchises for sale.
Jimmy John's – Jimmy John's is taking the sandwich and sub world by storm due to their delicious menu offerings and their signature "Freaky Fast Delivery Service", and it's no wonder their franchises for sale are a hot topic. However, if you think that their popularity means that these franchises for sale are unattainable, think again. The franchise fee is a low $35,000, and you'll need to prove liquid assets of only $80,000. The magazine Entrepreneur named this franchise as one of the top five best franchises to own, which is no surprise: in 2016 the average Jimmy John's owner took home nearly $122,000.
Ben and Jerry's – $100,000 is the magic number when it comes to the amount of liquid assets Ben and Jerry's franchises for sale require to get into the game. You can join this Vermont born brand of franchises for sale for a franchising fee of just $37,000. With fun flavors like Cherry Garcia, Phish Food, Chunky Monkey, who wouldn't want to dip into this affordable brand of franchises for sale?
Cold Stone Creamery – The second brand of frozen decadent treats to make our top five list of most affordable franchises for sale is Cold Stone Creamery. This giant has more than 1,000 locations across the county, as well as locations in 30 other countries! You will need to produce proof of liquid assets in the amount of $100,000 to enter into these franchises for sale opportunities, and come up with the low $27,000 franchise fee.
Little Caesars – For over 60 years, Little Caesars franchises for sale have been scooped up by entrepreneurs ready to serve up no fuss carry-out pizza and side items! It's no surprise that in these six decades more than 4,500 locations have popped up across the globe. Little Caesars requires $100,000 in liquid assets, and if you're a veteran you will be able to take advantage of the reduced franchise fee! Invest in one of the Little Caesars franchises for sale and you'll be saying "Pizza, Pizza!" while you roll in the dough!
Subway – Subway franchises for sale are king on our list as the brand has locations almost everywhere – over 45,000 locations throughout the world to be specific. This sandwich giant requires $100,000 in liquid assets for new franchisees. Once you purchase one of the Subway franchises for sale, you can expect to join the ranks of the rest of the brands franchisees doing an average sales amount of $490,000 annually!
There you have it, finding affordable franchises for sale CAN be done, and it can be done with worldwide brands! It looks like the magic number is the hundred thousand dollar mark. How many people have that much? A recent Bank of America statistic revealed that even Millennials are beginning to put that much money in the bank. According to their survey, "16% now have savings of $100,000 or more, double the amount of young people who had socked away that much in 2015." Price Waterhouse Cooper says more than 50% of all baby boomers have more than $100,000 set aside. Are you looking at your savings and ready to invest?
You an go the route of a new business by purchasing a franchise brand like the ones listed above. Better yet, you can buy an existing franchise for sale that's already up and running and generating cash flow! The Restaurant Brokers have an abundance of franchises for sale on our website, including this Subway franchise for sale in beautiful Palm Beach County, Florida or this Ben & Jerry's franchise that's netting six figures toay. If you're ready to take the plunge into the franchise world, check out our website by clicking the link below!