Planning to sell your restaurant? Have you already found a ready buyer? Before you get too excited, read what the restaurant brokers have learned over the years when it comes to landlords and lease assignments.
Critical Point # 1 – The Landlord is Not Your Friend – In fact, he's now Your Enemy
In our book, Appetite for Acquisition, we devote an entire chapter to the premise that the landlord is not your friend. When you request a lease transfer however, you move into totally new waters. Not only is he not your friend; for most sellers, the landlord is now the enemy. Why is he the enemy? Think about the meaning of the term –
en●e●my (noun) a person who is actively opposed or hostile to someone or something.
At the time you are trying to exit your lease, your landlord, the same guy you have seen every month for the last several years or called up to discuss business with a dozen times is now, actively opposed to that action. Why? It's human nature. He knows you. He's seen you pay your rent. You're on the hook to him for a personal guarantee and guess what – you pay him. He's not sure the other guy will. He now wants to keep you on that lease for as long as humanly possible. You need to be smart and engage in a strategy early to stay ahead of the landlord for the lease transfer.
Critical Point # 2 – Don't Bring a Knife to a Gun Fight
Landlords have office buildings full of legal staff and attorneys trying to figure out ways to protect their own self-interest. Just because your local rep is someone you know and like doesn't mean he or she has anything to do with the transfer.
The landlord's attorneys are fighting to retain you on the lease as a guarantor and fully liable, years after you leave the business. They are fighting to retain your security deposit. In some instances, they are fighting to keep from assigning the lease because it has a favorable term or rates remaining. Trying to negotiate for yourself against a pack of lawyers representing a landlord is like the old adage of bringing a 'knife to a gun fight." You need fire power. You need someone who will fight back for your best interest.
In most cases, the restaurant brokers are sad to tell you; that means you need to spend the money to get an attorney involved. If it costs you $3000 to get representation to fight back against a bully landlord on a personal guarantee, that is much cheaper than being on the hook for $300,000 if the person you assign the lease to goes belly up after two years.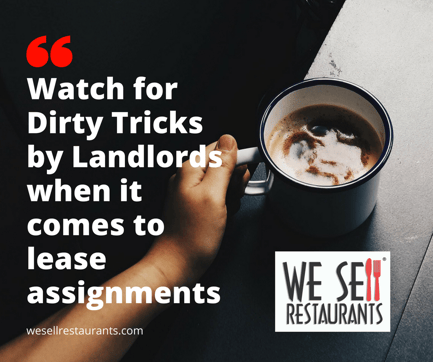 Critical Point # 3 – Watch for Dirty Tricks
In the opinion of this restaurant broker, landlords are the spawn of the devil (just kidding – sort of). Landlords are now bringing on a whole new bag of dirty tricks on transfers. A lease transfer is a courtesy that we are now seeing landlords turn into profit centers. Assignment fees are sky rocketing from $1500 to $5000 per transaction. We have seen some language forcing a percentage of the sales price as a transfer fee (one client had to pay $18,000, a percentage of the sales price to transfer a lease). Many landlords won't even do the assignment any more but pull out a "consent to assign form" which forces sellers or buyers to get the assignment drafted and have to hire an attorney. All of these dirty tricks are ways to drive up revenue for the landlord.
In many cases, they can charge what they want. Far too many sellers did not spend enough time on lease review before signing. They have agreed to terrible terms and/or payment of the landlord's "reasonable" attorney fees without capping them. Now landlords are cashing in. They've figured out how to make all the money to pay those offices full of legal staff they need to fight you. Now a lease transfer document that takes ten minutes to prepare cost you $3500 to $5000 in attorney fees to the landlord plus attorney fees on the other side to have someone protect your interest.
Recent other dirty tricks by landlords include keeping security deposits. For fifteen years we've seen virtually every lease assignment convey the rights to the seller's deposit to the buyer. Then the buyer reimburses the seller at closing. Now, in alarming numbers, we're seeing landlords demand new security deposits from buyers while making sellers fight them for return of the own.
Other dirty tricks – saying one thing and papering another. A recent transaction with a landlord in Atlanta turned up a lease assignment that bore no resemblance to the original deal terms. He delayed and delayed before providing the lease assignment at 5:36 PM on a Friday night for a Monday morning closing. He obviously didn't think the restaurant brokers would read it over the weekend and catch his actions but he was wrong. Watch for late delivery of assignments and read them thoroughly before signing. If you need to postpone the closing, then do it. It's too important to just accept what landlords give you.
Another recent dirty trick. A landlord trying to collect fees from a prior assignment at a new closing. We recently did a deal with Weingarten and the prior assignment fee was unpaid. It was owed by the prior assignor. Did the current Assignor or Assignee have anything to do with the last fee? No. Of course not. Did the landlord try to hold up the transfer to get the fee? They certainly did. It took an attorney telling them they had no legal right to do so to back them down.
Selling your restaurant is an exciting time in your life. Be extra cautious in dealing with your landlord to be sure it does not turn into a long term nightmare that costs too much and leaves you with lingering liability for a lease.
Do you have stories of dirty tricks by landlords? Reply to our blog posting.