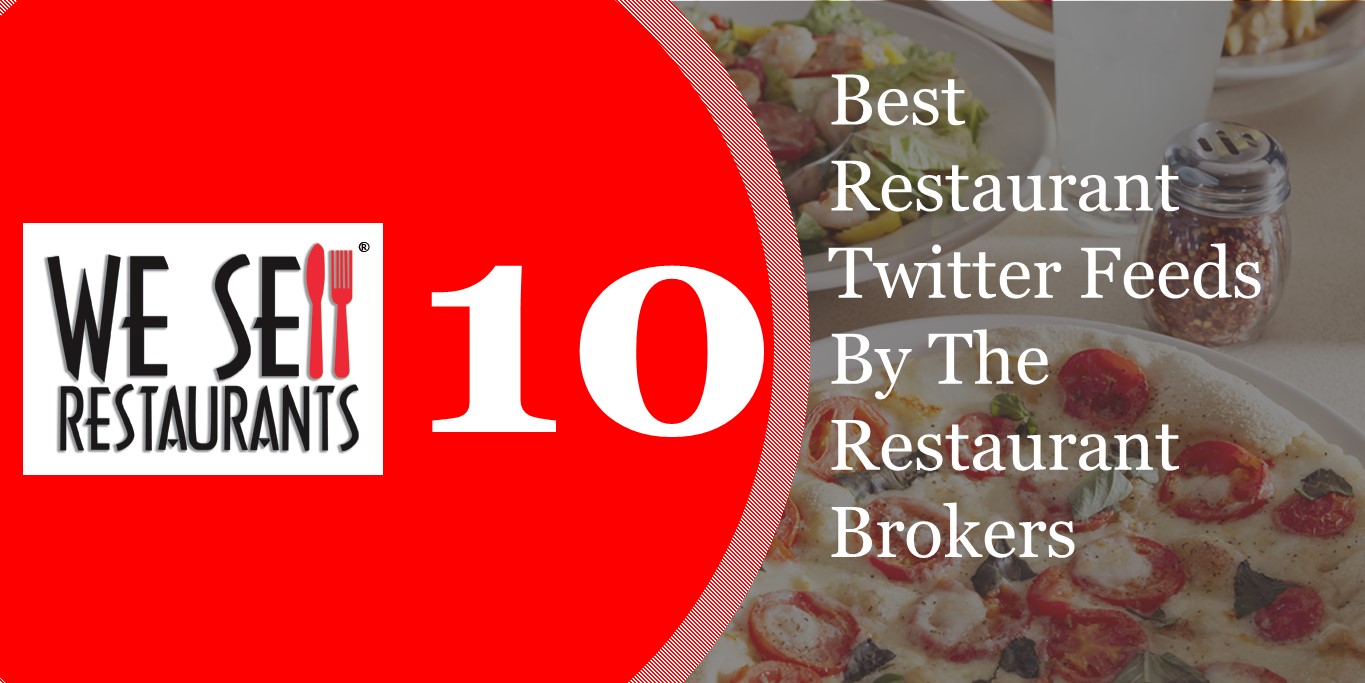 Wondering where and who to follow on social media when it comes to news about the industry? The restaurant brokers have a few favorites you should know about. Social media is a great place for find the latest, most up to date information about trends, financial forecasts, traffic patterns and even restaurants for sale and for lease. However, you need to be following the right individuals if you want to get the best information.
Here are the best ten twitter feeds we keep at the ready for industry information based on the restaurant brokers experience.
#1 Restaurant Brokers Resource on Twitter -- Jonathan Maze of Nations Restaurant News.
Jonathan is the Senior FInancial Editor of Nations Restaurant News. Formerly of Franchise Times, he has an amazing resume insight into the industry. His point of view is summed up by his Twitter photo which is a picture of a t-shirt reading, "I Heart (LOVE) EBITDA."
Jonathan can be found online at @jonathanmaze on Twitter. You can also find him on linked in at linkedin.com/in/jonathanmaze. His stories on the industry always contain the latest and greatest information and as restaurant brokers, we rely on his smart and on target approach to the business.
#2 Restaurant Brokers Resource on Twitter -- Jim Sullivan - Sullivision
You may have seen this industry guru on CNN, NBC, ABC, the Food Channel or heard him ... discussing people, performance and profitability in Nation's Restaurant News, but you're missing a daily ingestion of great information to your smart phone if you aren't also following him on Twitter or Linked In.
He can be found on twitter @Sullivision and on linked in on linkedin.com/in/sullivision. Check him out and add him to your feed. Tell him the restaurant brokers suggested him!
#3 Restaurant Brokers Resource on Twitter -- Franchise Times
If you want information on the franchise restaurant industry, you need to keep an eye on the newsfeed from Franchise Times. This magazine is at the top of the chain when it comes to tracking what's happening, what's hot and what's being sold in the industry. Their twitter handle is @FranTimes and it's definitely worth a follow.
#4 Restaurant Brokers Resource on Twitter -- Technomic
Technomic is a research company defined by their Twitter description as "a 360° view of the food industry. We impact growth with consumer-grounded, channel-relevant data and forward-looking strategic insights." Want to learn everything from the useless to the most amazing statistics? This twitter feed leads the way. This morning's insight? 62% percent of consumers say it's important that they can choose the side that comes with their entrée. ow.ly/u6fF30eG31T. The Restaurant Brokers love this feed!
#5 Restaurants Brokers Resource on Twitter - National Restaurant Association
Not to be confisued with NRA, @WRRestaurants on Twitter is the feed for all things restaurant. Their data insights and latest news is a good feed to be tied into when looking for the latest insights.
#6 Restaurants Brokers Resource on Twitter -- QSR Magazine
The QSR segment of the business has been roaring for the past five years and is currently experiencing a bump or two with crowded competition, fight over market share and declining sales. If you want a pulse on what's happening in the QSR part of the restuarant industry, take the restaurant brokers advice and follow @QSRmagazine on Twitter.
#7 Restaurant Brokers Resource on Twitter - Robert Irvine
If you want to add to your feed with the sometimes funny, sometimes showy and often inspriing charitable feed of a Food Network star, Robert Irvine brings real heart to the industry. His feed is full of outreach to the troops and help for those in need. He's very generous on Twitter and often interacts and re-tweets so this star is on the Restaurant Brokers Twitter feed list for sure. Find him on Twitter as @RobertIrvine and you've got yourself a great guy to follow.
#8 Restaurant Brokers Resource on Twitter -- International Franchise Association - IFA
The restaurant world is definitely connected with the franchise world so you should add the latest tweets from this group into your list if you want to stay up to date on who's franchising their restaurant concept. The restaurant brokers have @Franchising411 (great handle right?) in their feed to stay connected each day.
#9 Restaurant Brokers Resource on Twitter -- Food Network
It just wouldn't be Twitter if we didn't throw in a glam channel like Food Network who manages to make every form of food look delicious in just a single glance of your feed. The restaurant brokers love the food industry and Food Network keeps our feed chock full of fun, flavor and photos of our favorite subject.
#10 Restaurant Brokers Resource on Twitter -- We Sell Restaurants @SellRestaurants
Of course our Twitter feed makes the top 10. We compile information from all over the industry and comment, retweet and share it all. Our Twitter feed includes our latest restaurant for sale and restaurant for lease listings along with our sold listings! You get the latest information in real time when you follow the restaurant brokers online.
Got some favorites of your own that didn't make our top 10 list? Comment below and let us know what we need to add to the Restaurant Brokers feed.
Want to see our latest restaurant for sale listings? Click the link below.